We are very pleased to announce that a wonderful new anthology of Jack's finest work has been released. 'Sunshine Of Your Love: A Life In Music' features 35 tracks across 2CDs which celebrate the career of a true musical legend! Purchase your copy now!

---
On the eve of the first anniversary of Jack Bruce's passing, a host of stars joined together to pay tribute. Sunshine Of Your Love - A Concert Celebrating The Life & Legacy Of Jack Bruce, raising funds for Jack's chosen charity East Anglia's Children's Hospices: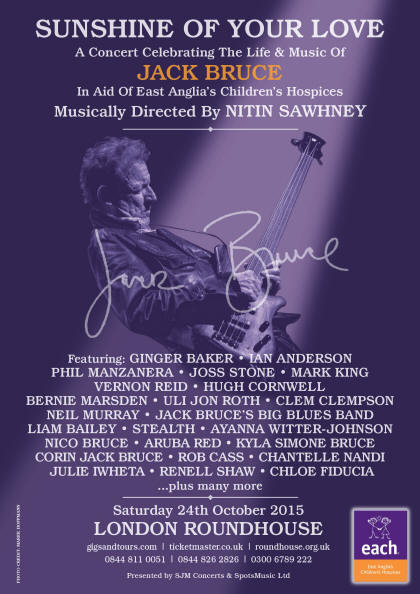 ---
Songs from the Road CD/DVD Set Released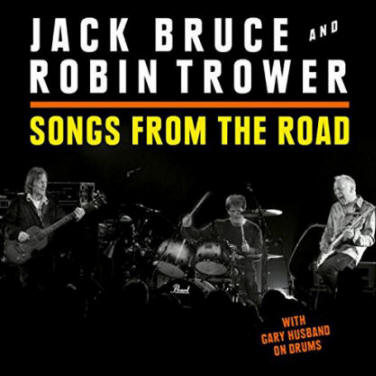 Featuring live performances by Jack Bruce, Robin Trower
and Gary Husband

---
More Jack Than Blues CD/DVD Set Released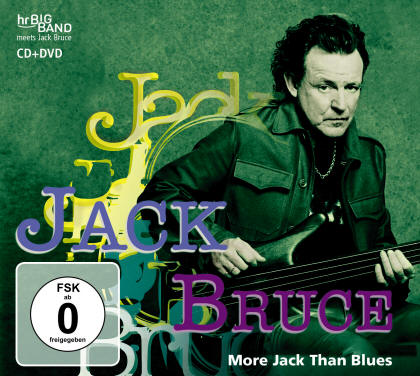 Featuring live performances by Jack Bruce
and the HR Big Band

---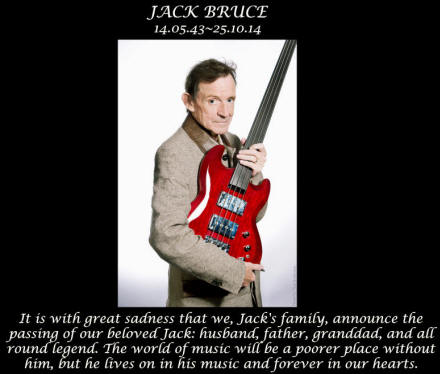 Jack Bruce's family would like to thank everyone for the kind words and messages from around the world with friends and fans sharing in their grief.
Fans are invited to make a donation in Jack's memory to his chosen charity, East Anglian Children's Hospice (EACH: www.each.org.uk/how-to-help/donate_in_memory reference: Jack Bruce).
"Now I'm back home for a while with a smile
And my garden's full of summer weather
Gonna keep on with the work tho it sometimes hurts
When you're looking at the fields of forever
Looking at the fields of forever"
- Jack Bruce, Fields of Forever - Silver Rails (Bruce/Brown)
Sign the Jack Bruce Memorial Guestbook
---
"Jack Bruce, probably the most musically gifted bass player
who's ever been" - Roger Waters
"He was a great musician and composer, and a tremendous inspiration to me" - Eric Clapton
"I am very sad to learn of the loss of a fine man, Jack Bruce...
My thoughts & wishes are with his family at this difficult time."
- Ginger Baker
Click Here for More
Listen to Eric Clapton's musical tribute "for Jack...."
http://clyp.it/lekq13np.mp3
(courtesy of
Eric Clapton's Facebook Page
)
---
50th Birthday Concerts DVD/CD Sets Released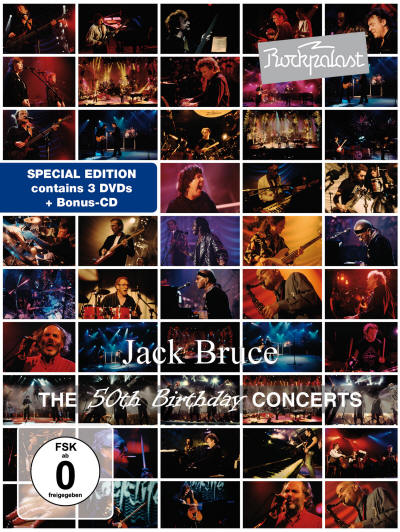 Jack Bruce invited a lot of friends for a very special
Rockpalast-concert to celebrate his 50th birthday! The
list of attendees is a kind of "Who is Who" in Rock and Jazz:
Ginger Baker and Simon Phillips on drums, Clem Clempson
and Gary Moore on guitar, Dick Hecksatll-Smith and Art Themen
on saxophone, Bernie Worrell and Gary Husband on keyboards,
Maggie Reilly and Gary Cooper on vocals, just to name a few.
A truly remarkable event!
Available in three versions: a
2-DVD Version
(with a 12-page
booklet, new liner notes and previously unreleased photos),
Extended Version
(2 concert DVDs and one bonus CD "The
Lost Tracks"and a 12-page booklet in an 8-panel CD-digipack,
incl. new liner notes and previously unreleased photos), and
Special Edition
(2 concert DVDs, 1 bonus DVD of additional
footage and interviews, the bonus CD "The Lost Tracks", two
12-page booklets with new liner notes and previously
unreleased photos in 2 DVD digipacks, coated with a slipcase).

---
New Album Silver Rails Released
The day has arrived! Jack Bruce's highly anticipated new studio album
Silver Rails
is out now to purchase on CD, Vinyl or as Digital Download. The limited edition Deluxe version of the album comes with a behind the scenes documentary DVD filmed on location at
Abbey Road Studios
.
This beautiful new body of work features an array of talented and respected musicians including Phil Manzanera, Robin Trower, John Medeski, Cindy Blackman Santana, Bernie Marsden, Uli Jon Roth, Malcolm Bruce and many more as well as lyrics penned by
Cream
lyricist
Pete Brown
, long-term collaborator Kip Hanrahan and Jack's wife Margrit.
To celebrate the release of Silver Rails we have launched a
Jack Bruce photo competition
, we are asking you to share your photos online using the hashtag #SilverRails. To find out how you can win some very rare and exclusive prizes including a signed
Warwick Mini Bass
and signed
Silver Rails Vinyl
, visit the competition page.
We have also launched the new official
Jack Bruce Merchandise store
, we will be regularly adding exclusive and signed goodies and there are brand new Silver Rails merchandise items available now:
http://www.jackbruce.tshirtmachine.com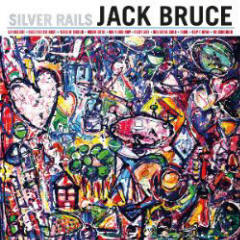 ---


Visit the JACK BRUCE STORE

Visit the
CREAM STORE
---
Jack Bruce
|
On Facebook

---
JB NEWS
01.11.15
---
Read
The Classical Source's review
of SUNSHINE OF YOUR LOVE: A Concert Celebrating The Life & Music Of Jack Bruce.
"The evening sparked with a spectrum of dynamic appearances, illustrating Jack Bruce's genre-defying versatility and the poetic lyricism which distinguished his material . . . a highly entertaining set, demonstrating Jack Bruce's virtuosity as a musician and gifted songwriter. This was a touching tribute to his glittering legacy – from the wealth of musicians he influenced and the appreciative audience."
---
---