GINGER BAKER
Drums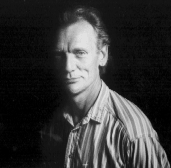 Ginger Baker was born Peter Edward Baker in Lewisham, South London on 19 August 1939. As a teen, he trained and competed as a racing cyclist, developing strong leg muscles which later contributed to his skill on the double bass drums. Ginger had always planned on becoming a professional cyclist, until he bought his first drum kit at the age of 15. Baker was keenly interested in modern art and jazz, a rebellious beatnik with an eccentric appearance and artistic flair. Later, he would become interested in sculpture, painting, rally diving and polo. It was his wide range of interests which led Ginger to take up the trumpet in the local Air Training Corp band. Watching the drummer gave Ginger the idea of playing drums himself.
Ginger recalls his first experience on drums: "I had been into drums from a listening point of view for quite a time. I used to bang on the table with knives and forks and drive everybody mad. I used to get the kids at school dancing by banging rhythms on the school desk! They kept on at me to sit in with this band. The band wasn't very keen, but in the end I sat in and played the bollocks off their drummer. And that was the first time I'd sat on a kit. I heard one of the band turn round and say: 'Christ, we've got a drummer' and I thought, 'Hello, this is something I can do'."
After playing for only a few months, Ginger got a job with a local trad jazz band led by Bob Wallis. At the age of 16, he quit his job, left home, and spent a year on the road. After some time, Ginger got fed up with his kit. With his characteristic achiever's attitude, he decided to make his own: "I got this great idea for using Perspex," recalls Ginger. "It was like wood to work on, but it was smooth, and it would save painting the inside of the drum shell with gloss paint. So I bent the shells and shaped them over a gas stove." Ginger made the kit in 1961 and used it until 1966, when he bought his first Ludwig set. Sadly, it was this home-made set that Jack Bruce would demolish with his upright bass in an on-stage brawl with Baker during the Graham Bond days. Bruce later recalled that the kit sounded spectacular -- like no other kit he'd heard before.
Listening to records, Ginger absorbed the playing of Baby Dodds and Alton Red. Then he discovered Max Roach. Applying Roach's technique, Ginger's wild and unconventional playing got him fired from a few bands, but ultimately it would develop into the rhythmic genius that would astound drummers around the world. Moving on to London's West End, he got another band job: "I got a reading gig, and I couldn't read. I had to learn to read music in a fortnight, to get the gig. It took me a week to find out what a repeat sign meant. I couldn't figure out why I was getting to the end of a part and the band was still playing!"
During the early 1960s, Ginger played in many jazz ensembles, striving to become a part of London's modern jazz circuit. His passionate and unconventional style, not to mention his short temper, were considered too disturbing. Says Ginger, "In those days I played like a madman and got emotionally involved with the music. Some people don't like that. They feel they are losing control of the band. A lot of drummers played what they heard on record. I was always playing myself. I had influences, obviously, but when I was playing modern jazz I was always accused of being a rock'n'roller because I need to lay down an off-beat. But then, so did Art Blakey. They didn't like this loud drummer playing off-beats, and getting the audience clapping their hands, and dancing about. That was most uncalled for. You were supposed to sit up and listen and drink your drink. But I never considered myself a rock'n'roller, I was always a jazzer."
In 1962, Ginger entered the R&B scene, joining Alexis Korner's Blues Incorporated in August of that year, taking over as drummer on the recommendation of Charlie Watts. One night, the late great modern jazz drummer Phil Seamen came to hear Ginger. They later practised and talked together. "Phil heard me play in the All-Niter Club which used to be the Flamingo on Wardour Street," Ginger recalls. "Tubby Hayes (the sax player) had apparently been in there and heard me and ran over to Ronnie Scott's Club and told Phil to come down and hear me. When I got off stage I was suddenly confronted by my hero."
In February 1963, Ginger, Graham Bond, and Jack Bruce left Alexis Korner to form the Graham Bond Organisation. Ginger stayed with Bond until 1966 when he formed CREAM. The Bond years were tremendously exciting for Ginger and for the British R&B scene; jazz guitar great John McLaughlin would join the Graham Bond Organisation, then later tenor sax man Dick Heckstall-Smith. During those years, Ginger developed a ferocious approach to drumming which would stun the world during his high-profile days with CREAM. Ginger would add a touch of jazz technique to the rock form, becoming probably the first true jazz-rock fusion drummer. Even today, great musicians hail Ginger as the greatest drummer of the rock genre, though the public at large has given him less credit than he deserves.
More to come . . .