JACK BRUCE
Bass, Vocals, Harmonica, Piano, Cellos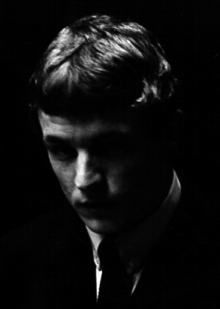 Jack Bruce was born John Simon Asher Bruce in Bishopbriggs, Lanarkshire, Scotland on 14 May 1943. While his parents travelled extensively in Canada and the U.S., Jack attended 14 different schools. From childhood, he wanted to be a musician. His parents bought him a piano to encourage his interest while at school. He started off as a choir singer before becoming a boy soprano soloist, entering Scottish music festivals and winning a few competitions. "I used to get very nervous, though, and almost throw up beforehand," Jack recalls. "I still do get stage fright, but as a kid I couldn't handle it. It would be just me and a pianist, and they'd be marking me while singing Schubert. It was very competitive because the sme half a dozen kids entered. My mother ensured that I had vocal training, which has stood me in good stead over the years. I knew how to project from the abdomen as opposed to pop singers who sing from the throat, which is why a lot of them have vocal problems."
At age 16, Jack won a scholarship to study the cello at the Royal Scottish Academy of Music in Glasgow. At 17, he left the Academy due to his professors' lack of interest in his ideas. Jack recalls: "When I was a young school boy I always wanted to play the bass, but was put on the cello because I wasn't big enough to handle the monster. At 15, having grown, I realised my first ambition and played bass in the school orchestra. I then went to music college but didn't stay very long. They didn't dig what I awas doing and I didn't particularly think what they were teaching me was going to help me very much. I got quite frustrated at college, because it was very old fashioned. I was very interested in modern composers like Stravinsky, and the teachers were very old - almost Victorians! A lot of them thought that music had died with Richard Strauss. I was also getting into modern jazz and trying to get them to take it seriously was very hard . . . It was a question of either staying at college or gigging. I was getting great experience playing in jazz clubs and learning Thelonius Monk tunes, which for me was just as important as studying classical harmony. The college didn't agree, so I left."
Jack then went to Italy to play double bass in a jazz band. He went to an audition for the Marray Campbell Big Band and played a difficult piece called "One Bass Hit". "I was fresh out of college and sight-read that - immediately. They were blown away and I got the gig. I went to Italy with that band but it became a small band in the style of Louis Prima, playing a shuffle type of rhythm and blues. It was very strange because we were playing variety theatres and the whole band were wearing kilts. Then somebody ran away with all the money and we got stranded in Milan and had to be repatriated. We spent six weeks in Milan with no money and lived on carrot stew!"
Jack returned and went to London for the first time, going straight to Archer street. "I went down The Street, and got a gig at an American base - in Italy." He was just 17. The deal was that he had to go to France, then drive the band to a town near Venice. "I had a driving license - but only just. I'd lied about my age, and had to drive this 1940s Mercedes with a trailer on the back carrying a Lowry organ - over the Alps! I'd never really driven before."
On his return to the UK, Jack joined the Jim McHarg Scotsville Jazz Band. Jim was the bassist, but got fired by his own band. Jack got his gig. While playing in Cambridge, he saw Ginger Baker play for the first time with tenor sax player Dick Heckstall-Smith. Dick and Ginger tried to discourage the young Jack from sitting in - they thought he wouldn't be able to play or cope with the changes. But Jack made an impression. Dick tracked him down later and the two joined Alexis Korner's Blues Inc. There, they discretely campaigned to replace drummer Charlie Watts with Ginger Baker. He left Alexis' band in 1963 to form a group with Graham Bond, guitarist John McLaughlin and drummer Ginger Baker. This became the "Graham Bond Organisation" after John left, and Dick Heckstall-Smith joined. Three years later, Ginger fired Jack from the Organisation because his bass playing was "too busy". Jack refused an offer to join Marvin Gaye's U.S.-based band because of an impending first marriage, then joined John Mayall's Blues Breakers, where he met Eric Clapton. He briefly left to join Manfred Mann, then was asked by Ginger Baker to form a trio with Clapton, who insisted that Jack be the singer.
CREAM, as the trio was called, went on to sell 35,000,000 records and were awarded the first platinum album in history for "Wheels of Fire". Jack wrote and sang most of the songs, including hits such as "I Feel Free", "White Room", "Politician", and what is perhaps the world's most performed riff, "Sunshine of Your Love". His composing was done with lyricist Pete Brown, with whom he continues to work to this day. By now, Jack had switched from double bas to electric, and in the process revolutionised the way the instrument was used. Soon, he was recognised as the lone bass-great of his time, and his free-wheeling style continues to influence bassists to this day. CREAM curdled in 1969 at the height of their popularity. Jack felt that he had strayed too far from his ideals and desired to explore his musical and social roots.
He recorded his first solo-album in 1969, "Songs for a Tailor", then began his tradition of playing simultaneously in rock, jazz, ethnic and classical styles, realising his unique style of performance and songwriting. During an American tour of his first band (featuring Larry Coryell and Hendrix's drummer Mirch Mitchell), Jack met Tony Williams through John McLaughlin. Jack, John, Larry Young and Tony formed "Lifetime", an experience Jack now describes as "the musical time of my life".
After the band broke up, Jack was hit hard by the death of Jimi Hendrix - Jack and Tony had been talking to him about forming a "dream band" together, and Jimi was a dear friend. Jack returned to his heavy roots with the formation of "West, Bruce and Laing" with former Mountain members Leslie West and Corky Laing.
Since then, Jack has lead many bands (featuring, amongst others, Carla Bley, Mick Taylor, Simon Phillips, Tony Hymas, Billy Cobham and David Sancious) and recorded numerous solo albums. He also has collaborated on special projects for artists like Carla Bley, Kip Hanrahan, Lou Reed, Alan Holdsworth, Mark Nauseef, and Frank Zappa.
In 1989, Jack reunited with Ginger Baker for the first time to record his great solo album, "A Question of Time" (Epic/Sony). Among the guests on this album are AlanHoldsworth, Bernie Worrell, Mark Nauseef, Tony Williams, Albert Collins, and Vernon Reid.
In 1992 at the Guitar Legends festival in Seville, Spain, Jack enjoyed himself playing with Bob Dylan, Keith Richards, and others. He then formed a trio with Simon Phillips and guitarist Blues Saraceno.
On 12 January 1993, CREAM were inducted into the U.S.'s "Rock and Roll Hall of Fame"; Bruce, Baker and Clapton were reunited for the first time in decades in Los Angeles, performing "Sunshine of Your Love", "Born Under a Bad Sign", and "Crossroads". Jack's solo album "Somethin' Els" was released shortly after, featuring guests such as Clapton, Maggie Reilly, Dick Heckstall-Smith, Trilok Gurtu, Stuart Elliot and others.
In November 1993, Jack celebrated his 50th birthday with two unique live concerts in Cologne, Germany (released on the CMP label as Cities of the Heart). Among the guests were Ginger Baker and Gary Moore, with whom Bruce formed a short-lived rock trio. After a brief tour of the UK and the release of one album (Around the Next Dream) the band went defunct. Jack's latest solo release, Monkjack, features only Bernie Worrell on the Hammond B-3 organ and Jack on piano and vocals, unfolding the lesser-known side of his musical diversity.
In 1997 Jack took part in several musical projects, including performances of an opera by Michael Mantler and a summer tour with Ringo Starr's All Star Band. Ringo and Jack are touring Europe during August 1998.
Click HERE to visit ROPE LADDER, my official Jack Bruce web site.