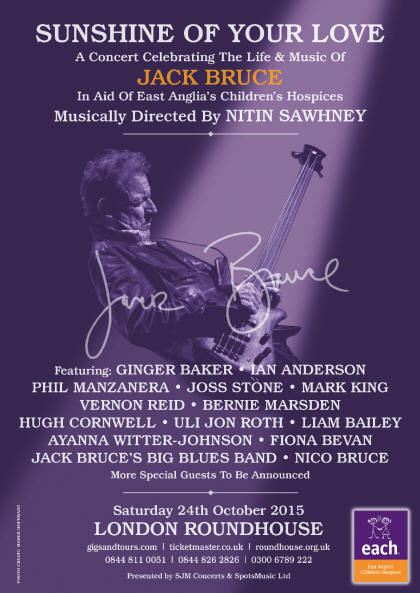 SUNSHINE OF YOUR LOVE
A Concert Celebrating The Life & Music Of JACK BRUCE


In Aid Of East Anglia's Children's Hospice
Musically Directed by
NITIN SAWHNEY

Featuring: Ginger Baker, Ian Anderson,
Phil Manzanera, Joss Stone, Mark King,
Vernon Reid, Bernie Marsden,
Hugh Cornwell, Uli Jon Roth, Liam Bailey,
Ayanna Witter-Johnson, Fiona Bevan,
Jack Bruce's Big Blues Band, Nico Bruce.
More Special Guests To Be Announced.

Saturday 24th October 2015
LONDON ROUNDHOUSE

TICKETS ON SALE TODAY
http://www.gigsandtours.com/event/sunshine-of-your-love/roundhouse/857831
---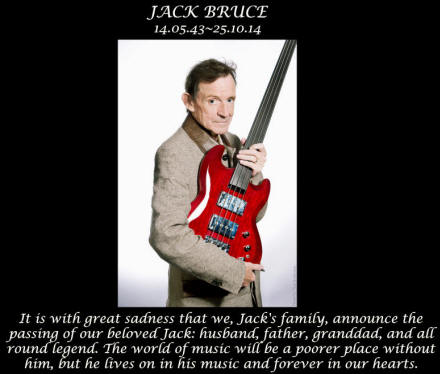 Jack Bruce's family would like to thank everyone for the kind words and messages from around the world with friends and fans sharing in their grief.
Fans are invited to make a donation in Jack's memory to his chosen charity, East Anglian Children's Hospice (EACH: www.each.org.uk/how-to-help/donate_in_memory reference: Jack Bruce).
"Now I'm back home for a while with a smile
And my garden's full of summer weather
Gonna keep on with the work tho it sometimes hurts
When you're looking at the fields of forever
Looking at the fields of forever"
- Jack Bruce, Fields of Forever - Silver Rails (Bruce/Brown)
Sign the Jack Bruce Memorial Guestbook
---
"Jack Bruce, probably the most musically gifted bass player
who's ever been" - Roger Waters
"He was a great musician and composer, and a tremendous inspiration to me" - Eric Clapton
"I am very sad to learn of the loss of a fine man, Jack Bruce...
My thoughts & wishes are with his family at this difficult time."
- Ginger Baker
Click Here for More
Listen to Eric Clapton's musical tribute "for Jack...."
http://clyp.it/lekq13np.mp3
(courtesy of
Eric Clapton's Facebook Page
)
---
50th Birthday Concerts DVD/CD Sets Released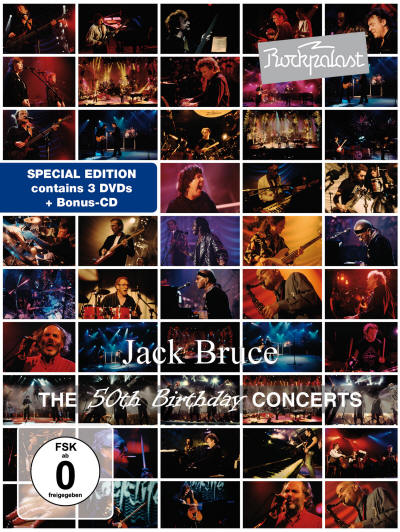 Jack Bruce invited a lot of friends for a very special
Rockpalast-concert to celebrate his 50th birthday! The
list of attendees is a kind of "Who is Who" in Rock and Jazz:
Ginger Baker and Simon Phillips on drums, Clem Clempson
and Gary Moore on guitar, Dick Hecksatll-Smith and Art Themen
on saxophone, Bernie Worrell and Gary Husband on keyboards,
Maggie Reilly and Gary Cooper on vocals, just to name a few.
A truly remarkable event!
Available in three versions: a
2-DVD Version
(with a 12-page
booklet, new liner notes and previously unreleased photos),
Extended Version
(2 concert DVDs and one bonus CD "The
Lost Tracks"and a 12-page booklet in an 8-panel CD-digipack,
incl. new liner notes and previously unreleased photos), and
Special Edition
(2 concert DVDs, 1 bonus DVD of additional
footage and interviews, the bonus CD "The Lost Tracks", two
12-page booklets with new liner notes and previously
unreleased photos in 2 DVD digipacks, coated with a slipcase).
Order Now

:


---
New Album Silver Rails Released
The day has arrived! Jack Bruce's highly anticipated new studio album
Silver Rails
is out now to purchase on CD, Vinyl or as Digital Download. The limited edition Deluxe version of the album comes with a behind the scenes documentary DVD filmed on location at
Abbey Road Studios
.
This beautiful new body of work features an array of talented and respected musicians including Phil Manzanera, Robin Trower, John Medeski, Cindy Blackman Santana, Bernie Marsden, Uli Jon Roth, Malcolm Bruce and many more as well as lyrics penned by
Cream
lyricist
Pete Brown
, long-term collaborator Kip Hanrahan and Jack's wife Margrit.
To celebrate the release of Silver Rails we have launched a
Jack Bruce photo competition
, we are asking you to share your photos online using the hashtag #SilverRails. To find out how you can win some very rare and exclusive prizes including a signed
Warwick Mini Bass
and signed
Silver Rails Vinyl
, visit the competition page.
We have also launched the new official
Jack Bruce Merchandise store
, we will be regularly adding exclusive and signed goodies and there are brand new Silver Rails merchandise items available now:
http://www.jackbruce.tshirtmachine.com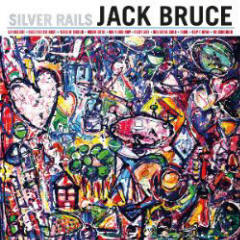 Order Now
:

---
BBC 2 Scotland Airs 1-Hour Documentary,

Jack Bruce: The Man Behind the Bass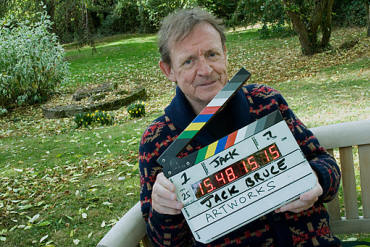 In early 2012
BBC 2 Scotland
aired an hour-long documentary,
titled
Jack Bruce: The Man Behind the Bass.
The programme
also aired on Sky 990 and 970 on Freesat.
---


Visit the JACK BRUCE STORE

Visit the CREAM STORE
---
Jack Bruce
|
On Facebook

---
JB NEWS
10.07.15
---
Check out the recently-published Lost Jack Bruce Tapes: Jack's 1997 interview with Jim Clash / Forbes Magazine, in multiple parts: [
Part 1
] [
Part 2
] [
Part 3
] [
Part 4
] [
Part 5
] [
Part 6
] [
Part 7
] [
Part 8
] [
Part 9
] [
Part 10
].
22.04.15
---
Jack's last ever musical recording will feature as part of a forthcoming Beatles tribute album. The record will include 16 acoustic versions of tracks originally recorded by The Beatles, with two bonus tracks included on the digital version. Jack recorded his cover of
Eleanor Rigby
just prior to his passing at his home studio in Suffolk and the recording is said to be a "devastating interpretation of the mournful ballad."
Keep Calm And Salute The Beatles
is due for release on Tuesday 28th April via Cleopatra Records.
---
---
---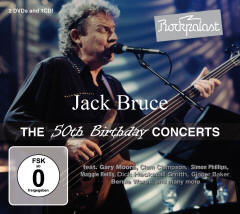 Jack Bruce 50th Birthday Concerts
released as
2-DVD Version
, 3 disc
Extended Version
(2-DVD plus bonus
CD "The Lost Tracks"), and 4 disc
Special Edition
(2-DVD, bonus DVD
of additional footage and interviews,
and bonus CD "The Lost Tracks")

---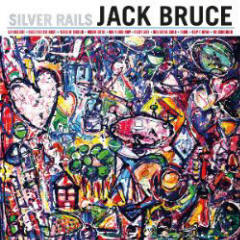 New album
Silver Rails
released on
vinyl, CD, and 2-disc CD-DVD special
edition. Also available on iTunes:

---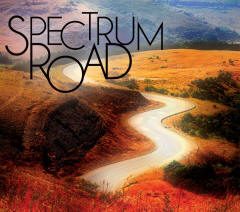 Spectrum Road Album Out Now
Jack Bruce & His Big Blues Band
Live at The Stables in Milton Keynes
18 March 2012

[

CD/T-shirt Bundle

]
---

Jack Bruce and the Cuicoland Express
Live at the Milky Way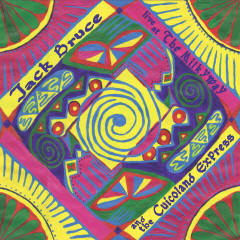 "Pure magic"



- HiFi City (HU)

"Legendary recordings"
- Blues Magazine (NL)
"Historically legendary live concert"
- Rootstime (BE)

"A wonderful, exciting recording of an exceptional musician. Highly recommendable!"
- Hooked On Music (DE)

---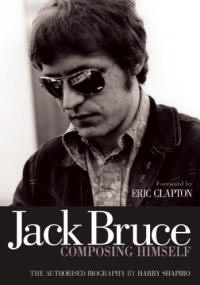 Composing Himself, Jack's authorised biography, now available in stores; copies signed by Jack available exclusively through Pledge.com
---