Jack Bruce is without question a musician who falls into the category of "legend"; his part in the groundbreaking 1960s trio Cream cemented his reputation as the greatest rock bass guitarist ever.

Now the acclaimed singer, songwriter, bass guitarist, cellist, pianist and acoustic guitarist will release the second in a planned trilogy of Afro-Carribean influenced solo albums, its processor being the critically acclaimed "Shadows in the Air", also released on Sanctuary Records. More Jack than God follows where Shadows left of and with Jack Bruce & Kip Hanrahan handling the production duties and a lot of familiar names completing the sound it seems Jack has found a winning combination with Vernon Reid (Guitar) Bernie Worrell (Hammond Organ) Malcolm Bruce (Guitar and Piano) Robby Ameen (Drums) El Negro Horacio Hernandez (Drums) & Richie Flores (Congas).


The tracks are:

SO THEY INVENTED RACE
The concept of race with all the suffering caused by its prejudices and pain - to the perpetrator as well as to the victim - is a fairly recent innovation. How wonderful life must have been before the fall.
FOLLOW THE FLAME
KELLY'S BLUES
A scream of pain for the young girl, Kelly who a few years ago was bullied to death for not being pretty enough. This is a true story.
WE'RE GOING WRONG
Originally written by Jack for Cream, Jack was prompted to re-record this by a young person in a pub who said it was their favourite song. "Can you do that one called I'm Going Mad?" How could Jack refuse especially as the words seem even more apt in the Noughties than they did in the 60's.
BIZNESS
We are all running around chasing success and our tails and at the same time leaving a horrible legacy for our grandchildren. Silly turds that we are.
PROGRESS
Dedicated to the memory of Jack's father who was a fine, self taught musician. Jack tells me his father's favourite song was Brother, Can You Spare a Dime? and Progress reminds me a lot of those depression songs.
I FEEL FREE
A nifty Afro-Cuban version of this much covered song. The guys sound terrific and the a capella intro is finally vindicated - plus at last you can hear the inner harmonies!
RICIN (DAYLIGHT VISIBLE)
Some fine day those beautiful scars will be but a sad and hazy and unbelievable memory.
THE NIGHT THAT ONCE WAS MINE
A wonderful sort of combination of High Life and Chanson! Jack's double lead vocal is bleakly beautiful.
MILONGA TOO
COLD ISLAND (For Cozy Powell)
Jack has dedicated this song to his friend, drummer Cozy, who played on the original demo. Lovely vocals and bass from Jack and a elegiac solo from Vernon.
UH, OH (WRITTEN IN BLUES ON HER SKIN)
All those lies that we told must come back to haunt us - for ever. This even has the classic, stripper line up of just piano and drums.
POLITICIAN
Jack included this one at the request of the three drummers. Listening to the way they play it I feel sure he's glad he did!
LOST IN THE CITY
Jack told me that this somehow reminds him of the Winterland in San Francisco in 1968 where he says he heard (and participated in) a lot of great jams. To me it epitomises this great, original album and the new direction Jack Bruce has taken. He has reinvented himself and at the same time has come up with a completely new type of music.
Music - from jazz to folk from classical to blues - has been a key part of Bruce's life since he was born in Glasgow, Scotland, on May 14, 1943.

"My home was very musical. My mother sang Scottish folk songs and my father was a huge traditional-jazz fan of people like Fats Waller and Louis Armstrong. But my older brother loved modern jazz. There'd be literally, physical fights in My house between my father and brother arguing about the role of the saxophone in jazz or something, real punch-ups," chuckles Bruce. "Music is a valid part of my background. I didn't adopt music, music adopted me."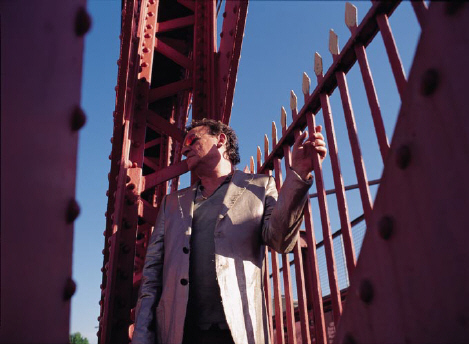 Singing was a natural part of Bruce's youth -- he sang in a church choir -- but he quickly took up the cello and investigated classical music. He studied Cello and composition at the Royal Scottish Academy of Music but dropped out at age 17 over philosophical musical differences with his instructors. Bruce then found his way to London in the early 1960s and quickly embraced the vibrant jazz and blues scene in the city. Early in Bruce's professional career, he was a member of Alexis Korner's Blues Inc., the Graham Bond Organization, John Mayall's Bluesbreakers and, briefly, Manfred Mann. At one point, Bruce actually Turned down soul singer Marvin Gaye's offer to join his band because he was about to get married.

Cream was the pioneering trio featuring Bruce, Clapton and drummer Ginger Baker. The first-ever "supergroup," the band's name came from the fact that its Members were regarded as the "cream" of the crop of British musicians at the time.

Between 1966 to 1968 the group revolutionized rock music and expanded its Boundaries with four indispensable albums, Fresh Cream, Disraeli Gears, Wheels of Fire and Goodbye. In just three extraordinary years, Cream invented the "power trio" format, brought pure jazz and blues textures into
rock and used those genres' improvisational elements to introduce freeform, on-stage "jamming" to the world.
Cream was also capable of condensing its power, resulting in astonishing Singles like "Sunshine of Your Love," "White Room" and "I Feel Free," all three sung by Bruce and co-written by Bruce and co-lyricist Pete Brown. (Clapton is also credited on "Sunshine of Your Love.") Bruce says that while
in Cream he wanted to write the definitive pop single because he was strongly influenced by the Beatles. Cream's status as one of the most important groups in rock history was confirmed with its 1993 induction into the Rock and Roll Hall of Fame.

Cream allowed Bruce to become an innovator in terms of the role of the bass guitar in a rock band. His forceful, aggressive licks changed the context of rock bass, and it became as much a lead instrument as Clapton's guitar. Bruce, however, is not entirely comfortable with the "virtuoso" tag.

"The bass is just one of the instruments I play," he says. "I suppose my greatest prowess is on the bass, but that gets the most attention since that's what I played in Cream."

It was Cream that also forced Bruce to re-embrace singing, which he'd Generally declined to do in earlier groups. Looking back, it's startling to think that Bruce, who has a very distinctive tenor voice, had to be talked into it.

"I became the lead singer in Cream by default. It wasn't until Cream that Eric encouraged me to be a singer. We always had a competition as to who didn't want to be the lead singer. I guess I sort of lost," laughs Bruce. "Cream's success has been a double-edged sword for me. I still earn a lot of money from it and it's given me financial freedom and the opportunity to play whatever I've wanted to. When I see an article about me and it says 'Jack Bruce of Cream' it kind of annoys me a little bit because I've done so many other things. It's kind of like an actor being typecast," reasons Bruce.

Fortunately, Bruce did not get lazy and complacent in Cream's aftermath. He Kept challenging himself musically with a steady string of solo and group albums embracing everything from folk-rock to fusion to hard rock. The list of important musicians Bruce worked with, post-Cream, on these albums is
nothing short of mind-blowing: satirical guitarist/composer/vocalist Frank Zappa (on 1974's Apostrophe, the eccentric genius' most commercially successful album), Lou Reed (on 1973's Berlin), Rolling Stones guitarist Mick Taylor, jazz guitarist Larry Coryell, Jimi Hendrix Experience drummer Mitch Mitchell, blues- rock guitarist Robin Trower, Mahavishnu Orchestra drummer Billy Cobham, Mahavishnu Orchestra guitarist John McLaughlin, Mountain guitarist Leslie West, Mountain drummer Corky Laing, Humble Pie guitarist Clem Clempson, Bruce Springsteen & The E Street Band pianist David Sancious, keyboardist Bernie Worrell (who played with George Clinton, Funkadelic and
Talking Heads) and others. He's also toured regularly over the decades, including notable stints with Beatles drummer Ringo Starr's All-Starr Band in the 1990s.

"I still find it very enjoyable to stand up and scream into a microphone," Bruce says. "I would probably get bored not keeping busy. It's very difficult to keep a band together. There's a very sparky energy to the people I play with. I'm after the real thing. I'm not interested in playing it safe. That
would bore me. I want to make my own statement, to get my own ideas across. But I do like doing things like playing with Ringo. Ringo's tours were really like a traveling party."

For a man who's seen the ugly side of the music business through his many years in it, Bruce's current relationship with Sanctuary Records makes him happy. Sanctuary's top brass loved Shadows in the Air, and Bruce is grateful for their support. The music business is one of judgment calls, and
sometimes mistakes are made. That's why he's excited by Sanctuary's attitude.

"The business side of the music business isn't pretty. I see it all the time. Young people come to me for help and advice," Bruce says. "There's the famous story of Decca Records rejecting the Beatles, for example. I remember that (Atlantic Records founder) Ahmet Ertegun didn't like 'Sunshine of Your
Love' or 'White Room' when he heard them. Now those songs are almost public domain. They've taken on a life of their own. I've almost always done 'White Room' live when I've played over the years, and I've also seen everybody from amateur bands to string quartets perform the song."